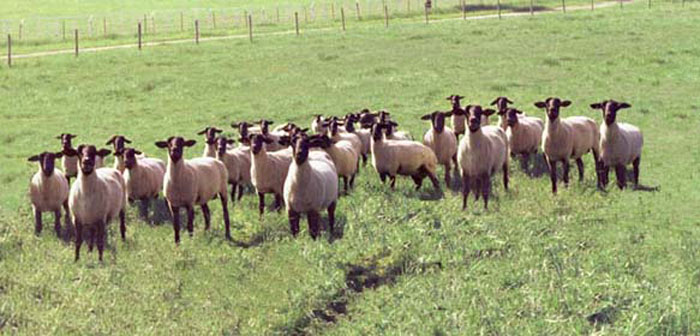 Our foundation ewes are the backbone of our breeding program. This relatively small ewe flock has essentially been closed since 1981. We have chosen to place our emphasis on stud selection resulting in some of the strongest and most desirable bloodlines in the industry. We believe the power of a Suffolk individual or flock is based on the genetic background of it's females. Our females are closely bred to insure consistent traits. These studs have been used since 1981 and can be traced back in the bloodlines of our foundation ewes.
All our ewes are selected with RR/NN as one of the tools to enhance their genetics. Currently our flock is 100% RR/NN. Years of careful evaluation and selection has allowed us to reach this genetic goal. Longevity, confirmation, and predicability are all traits we look for in our foundation ewes.
This is an example of Power's females. Stylish, balanced, and correct.
They will be added to our foundation ewes.

Breeding Sheep Page | Web site design by: EDJE Technologies