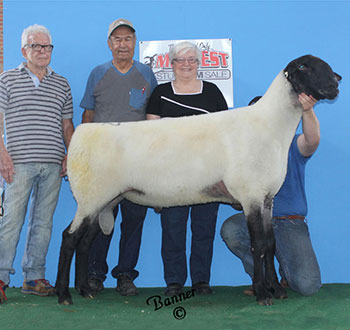 POWER
Introducing our new Ream Stud Ram! He carries the bloodlines of Milestone, Jr.Champion Ram at Louisville in 2012
and Grand Champion Ram in 2013, Famous Frank (5 Star J) the sire of Milestone for High Point Suffolks, and
Luxford's True Grit. This ram measures 44-1/2" tall by 46" long.

His rams were positively received by two different judges this summer at two major shows.
---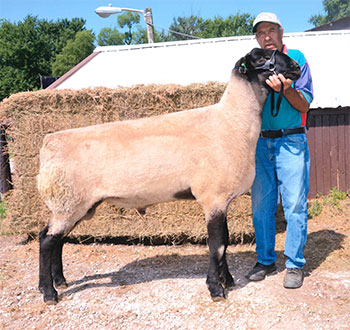 TYRANT
Introducting our home grown stud "Tyrant". His dam is one of our previous show ewes. He is correct and smooth. We fondly refer to him
as the "Big One". He is sired by a Quam ram and a "My Way" daughter.
---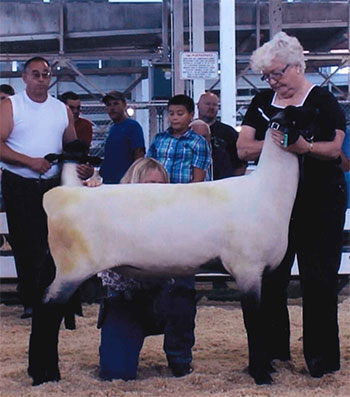 TOWER
February Ram Lamb - 2014 Iowa State Fair.
He is large framed, long bodied, complete, structurally sound,
exciting two-year old. He stamps his size and frame on his off-spring.

---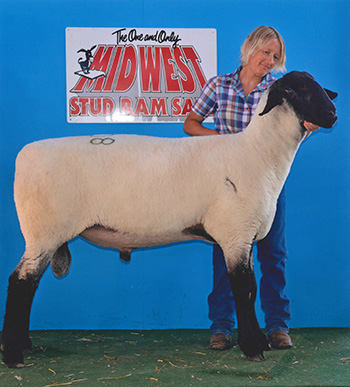 AFFIRMATION
The Orwick ram, "Affirmation" boasts three national champions in his pedigree and has proven it in spades. His lambs have been everything we expected. In addition he is a pleasure to work with...
mid mannered and an easy keeper. Affirmation has a great hip and more importantly he passes this trait on to his offspring. He sired the 3rd place ram lamb at the 2014 Iowa State Fair.
---
MY WAY
This ram was third in his class at the Midwest Stud Ram Sale in 2010. His pedigree is outstanding. He has continued to grow and is massive in bone, frame, and volume; measuring 42 inches
at the shoulder. We feel he will continue to grow. He sired the majority of our 2011 lamb crop and what a payback! He sired the Reserve Junior Champion Ewe @ the Iowa State Fair open
show and the Champion Ewe at the Junior Suffolk show at the Iowa State Fair; both shown by Amber Hammes. Congratulations Amber. He also sired the 4th Jan ram class in the Suffolk Open show
at the Iowa State Fair. This ram lamb is for sale as well as several others with the same potential.
---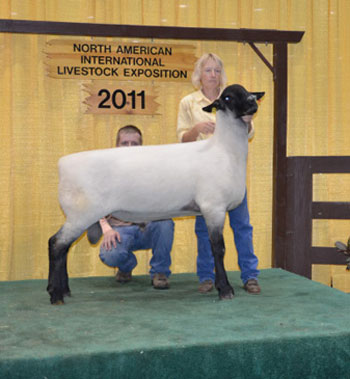 THE CHOICE
The Choice placed 3rd in the NAILE Junior Show and won his class in the Open Show. We received several comments about his frame, bone, and excelled growth. He stands 42 inches at the shoulders and shows no sign of slowing.
---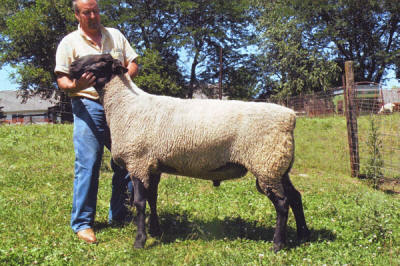 Tsar Ivan
He is deep bodied and massive. He sires lambs that are bold and fast growing. His twin Tsar Nicholas sires beautiful headed stylish ewe lambs. (Check out the ewe lambs)
They are representative of our crop. We will be using these two rams heavily plus a Big B son out of one of our best ewes/ewe family for the 2010 lambing season.
---
Fisher 06-60
Fisher 06-60 was sired by our popular 05-18 ram lamb that did so well at the Iowa State Fair a few years ago.
His triplet sister and several of his offspring will be retained in our ewe flock. This stud ram is tall, long and produces fance females.
---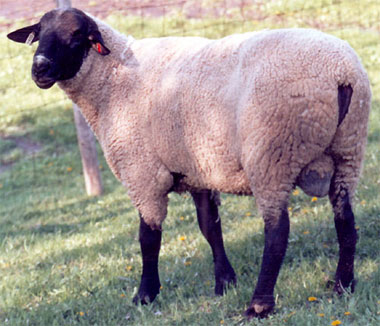 Luxford 84-304
"Quaddafi"
Buckeye Acres 66LX
Buckeye Acres 776